Ironing Services
Ironing Building Up Or Even Out of Control?
Perhaps you might like to consider employing Kleanology ironing services of Portsmouth, Havant, Waterlooville and surrounding areas.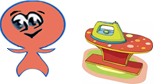 We can offer a one off or regular service in your own home or as part of your regular cleaning.  We don't mind as little or as much that you need doing weekly or here and there.
If you're just too busy with the kids, a full time job or anything else and the ironing pile isn't going down, please give us a call, we are here to help.
We iron anything from bed linen and towels to dresses, shirts and skirts.